« Dual-Core PowerPC Chips | Main | EverythingDigital Podcast 2005-07-14 »
July 13, 2005
SanDisk Announces New microSD Developments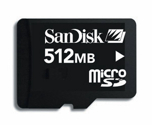 Although it may make many people groan to know that yes another flash card format is elbowing its way into the marketplace, SanDisk has announced that its new flash specification, the microSD, has been officially adopted by the SD Card Association.
The new specification is geared towards mobile devices and is especially intended for cellular phones. Along with this announcement, SanDisk introduced a 512MB version of the microSD card which will be the largest-capacity microSD card commercially available. The company also said that it expects to make a 1GB microSD card by the end of the year, and a 2GB card sometime in 2006.
The 512MB model will retail for $69.99 and be available in August, while SanDisk's 256MB model is available now for $44.99. Both cards are sold with an adapter allowing them to be used in devices with standard SD slots.
Even considering the problems that have already surfaced because of the vast amounts of flash card formats currently available, it may be beneficial to have cards that are designed to work more specifically with mobile phones and that have accordingly small form factors.
Posted by Alan Joyce at July 13, 2005 10:16 PM
Trackback Pings
TrackBack URL for this entry:
http://www.everythingdigital.org/cgi-bin/mt-tb.cgi/241
Comments
Post a comment