« July 2005 | Main | September 2005 »
August 23, 2005
EverythingDigital Podcast 2005-08-23

The first show with the new Samson C01U, so you'll notice improved audio quality throughout the show.
News topics include Google Desktop Search 2.0, Intel's new, more efficient processors, the announcement of Xbox 360 prices, Audi's Treo 650 compatibility, Amazon's partnership with Shutterfly, a couple items of music industry tech news, and a Japan research group's plan for 3D TV by 2020.
SHOW NOTES: HTML | OPML | TEXT
DOWNLOAD THE MP3 | 36:34 | 16.8 MB |
Posted by Alan Joyce at 11:59 PM | Comments (0) | TrackBack
August 15, 2005
EverythingDigital Podcast 2005-08-15
A quick catch-up cast with a description of my recent vacation and a review of my new Canon PowerShot A510.
DOWNLOAD THE MP3 | 14:15 | 6.6 MB |
Posted by Alan Joyce at 06:48 PM | Comments (0) | TrackBack
August 14, 2005
Catch-Up Cast Coming Soon
I was hoping to get a podcast out this weekend with stories from the trip and a review of the Canon PowerShot A510 digital camera I bought after returning from the trip, but I just haven't had time to sit down and record it. I've been busy catching back up to the world and recovering from all those days of waking up with the sun at 5:30 in the morning. I'll hopefully have a cast out tomorrow night, and I'll try to make up for the absence of an EDP for so long.
Posted by Alan Joyce at 11:18 PM | Comments (0) | TrackBack
August 12, 2005
I'm Back!
As noted in my previous podcast, I just took a week-long vacation river rafting through 250 miles of Grand Canyon rapids. The trip was a blast (more on that in the next EDP), but I've got a lot of catching up to do.
I came home to several hundred unread emails, even more unread RSS news items, so many un-downloaded podcasts that iPodderX still hasn't finished with them, and a short-lived, but somewhat scary inability to use a keyboard and mouse correctly.
I don't have much news collected for a podcast yet, so I'll probably do a catch-up cast tomorrow with a report on my trip and what it's like to be without any technology (other than the digital camera) for a week.
Posted by Alan Joyce at 10:47 PM | Comments (0) | TrackBack
August 04, 2005
EverythingDigital Podcast 2005-08-03
The Skype WiFi Phone, Microsoft's hacker conference, a Ford and Sirius alliance, Apple's Mighty Mouse, Flickr's interestingness feature, Yahoo's plans to syndicate tv news, and IE7's CSS shortcomings.
SHOW NOTES: HTML | OPML | TEXT
DOWNLOAD THE MP3 | 32:57 | 15.1 MB |
Posted by Alan Joyce at 12:13 AM | Comments (2) | TrackBack
August 02, 2005
Apple Introduces Multi-Button Mouse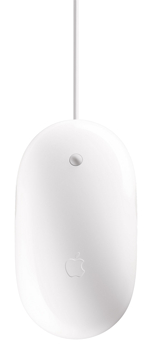 Yes, it's true, Apple has finally bitten the bullet and ended their prolonged battle between mouse esthetics and functionality. The company today announced the Mighty Mouse, a somewhat cheesily-named product for Apple's standards, but one that will certainly change the face of their peripherals department.
The idea behind it is that you get two buttons with the look and feel of one, since the mouse has only one major button, but can determine where you click on that one button to differentiate between a left and right click.
It also has 360º scrolling, which could either be a blessing or a curse, since it could easily end in disaster if you think you're scrolling straight down when you are really scrolling down and to the left.
Side buttons (never my favorite placement for extra clicking options) also allow application switching and other customized features, but introduce the worry of accidentally clicking one while resting your hand on the side of your mouse.
The other problem is that it does not appear to come with a wireless option. I would find it much more useful with built-in bluetooth, but then it would probably cost $99.
All-in-all, it's a big step for Apple, and I can't wait to get my hands on one to give it a try, but I'm very worried about accidental clicking and scrolling with this model. I certainly won't be rushing to buy one before I have had a chance to test it in-person, and I'll post a full review as soon as I do.
Posted by Alan Joyce at 05:27 PM | Comments (0) | TrackBack
August 01, 2005
August 2005
It's a new month, not that I care about the ratings...but still...
Posted by Alan Joyce at 06:02 PM | Comments (0) | TrackBack