« 3 Votes Away! | Main | Dog With GPS and Video Camera »
March 06, 2005
Number 47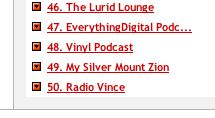 Thanks to your votes, the EverythingDigital Podcast has jumped up to number 47 on the Podcast Alley Top 50 podcasts monthly ranking system. Thanks everyone for voting, and keep it up!
UPDATE: The EDP is now at #35 on the charts!
Posted by Alan Joyce at March 6, 2005 09:54 AM
Trackback Pings
TrackBack URL for this entry:
http://www.everythingdigital.org/cgi-bin/mt-tb.cgi/134
Comments
Ahem, you are much higher than 47. You are up to 39. :D
Posted by: Jeff at March 6, 2005 04:10 PM
Would you please consider adding dates to your mp3 podcast files? The number system doesn't tell me how old they are and makes it harder to comment or find something. I am often behind in my listening.
Posted by: Diana at March 10, 2005 06:13 AM
Post a comment