« Google's New Google Earth | Main | Listeners from iTunes »
June 29, 2005
Apple: Photos All Around!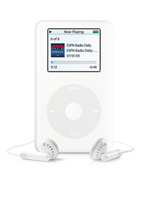 With a major rearrangement to its iPod lineup, Apple Computer has announced that it will now be including color screens in all of its standard, white iPods. The company is planning to merge both the iPod and iPod photo lines into a single, unified series of products with photo viewing and slideshow functionality standard.
This new series will incorporate a 20GB model with room for up to 5,000 songs for $299, and a 60GB model that will hold 15,000 songs for $399. In addition, Apple is adding extra podcast-handling functionality for iPods, including the ability to easily create bookmarks within a show. Apple has also not forgotten about the iPod shuffle and iPod U2 Special Edition, lowering the shuffle's price to $129 and the U2 Special Edition's price to $329 in addition to giving it a color screen.
The new iPods will be available in Apple Stores as well as from store.apple.com, and will include the latest iPod software update which provides them with the enhanced podcast functionality. For users of older iPod models, this functionality is also available by downloading the update through OS X Software Update, or manually from Apple's website.
Posted by Alan Joyce at June 29, 2005 07:10 PM
Trackback Pings
TrackBack URL for this entry:
http://www.everythingdigital.org/cgi-bin/mt-tb.cgi/500
Comments
Post a comment