« European iTunes Music Stores Reach 50 Million Downloads | Main | .com »
June 23, 2005
iPodderX for Windows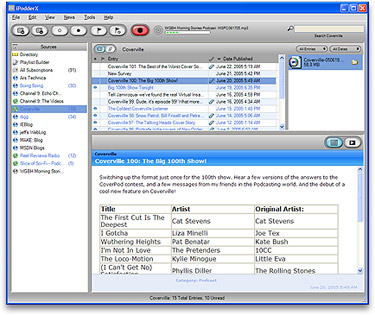 I can hardly believe it, but August and Ray from Thunderstone Media have just announced a Windows version of their popular Mac podcatching client, iPodderX. The Windows version will still have all the features us Mac users enjoy, and will be available as a public Beta in the coming weeks.
They also took the opportunity to introduce Sean Jackson, a new addition to Thunderstone Media, who has been hard at work porting iPodderX to Windows in recent weeks.
"iPodderX has long been thought of as the best podcasting client for the Mac," said iPodderX developer August Trometer. "We couldn't be more excited to bring iPodderX to the Windows platform."
Posted by Alan Joyce at June 23, 2005 05:47 PM
Trackback Pings
TrackBack URL for this entry:
http://www.everythingdigital.org/cgi-bin/mt-tb.cgi/494
Listed below are links to weblogs that reference iPodderX for Windows:
» This is Great! The best ipodder client is now available for Windows! from Richard Bluestein's Weblog
I highly reccomend this podcatcher because it allows you to view text feeds in addition to listening to pocasts. It also can make podcasts bookmarkable AND imports video blogs to iTunes where you can view them. This is really great.... [Read More]
Tracked on June 25, 2005 10:12 PM
Comments
Is the Windows version of iPodderX going to run on win98? or just XP/2000?
Posted by: Steve Thompson at July 6, 2005 02:58 AM
According to the developers, it will only be for XP.
Posted by: Alan Joyce at July 6, 2005 06:00 PM
I think this is great, I currently use IPodder to get all of my podcasts of TWiT and the like, but you have to buy the program, am I correct? I know you get like a 30 day free trial, but after that you have to buy it. So, I think I will just stick with IPodder.
Posted by: Nathan Freeman at July 6, 2005 08:11 PM
The developers tell me there is a free, lite version in the works, but it is unknown whether it will be fully developed anytime soon.
Posted by: Alan Joyce at July 6, 2005 08:25 PM
Post a comment