« May 2005 | Main | July 2005 »
June 30, 2005
Listeners from iTunes

Posted by Alan Joyce at 08:46 PM | Comments (1) | TrackBack
June 29, 2005
Apple: Photos All Around!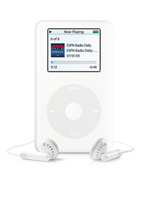 With a major rearrangement to its iPod lineup, Apple Computer has announced that it will now be including color screens in all of its standard, white iPods. The company is planning to merge both the iPod and iPod photo lines into a single, unified series of products with photo viewing and slideshow functionality standard.
This new series will incorporate a 20GB model with room for up to 5,000 songs for $299, and a 60GB model that will hold 15,000 songs for $399. In addition, Apple is adding extra podcast-handling functionality for iPods, including the ability to easily create bookmarks within a show. Apple has also not forgotten about the iPod shuffle and iPod U2 Special Edition, lowering the shuffle's price to $129 and the U2 Special Edition's price to $329 in addition to giving it a color screen.
The new iPods will be available in Apple Stores as well as from store.apple.com, and will include the latest iPod software update which provides them with the enhanced podcast functionality. For users of older iPod models, this functionality is also available by downloading the update through OS X Software Update, or manually from Apple's website.
Posted by Alan Joyce at 07:10 PM | Comments (0) | TrackBack
Google's New Google Earth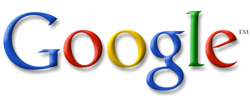 Google today launched its new Google Earth service, which allows free access to maps of 3D buildings and terrain as well as satellite imagery, all wrapped into one program based on Google's Keyhole. The new service currently only works on Windows machines, but Google is promising Mac support as soon as possible.
Some notable capabilities of the new feature include the ability to use an integrated version of Google Local search to find businesses and attractions, dynamic videos of driving directions, and an easy, collaborative method for users to share annotations.
The new service is available at earth.google.com and although the base package is free, Google also offers Plus and Pro editions for $20 and $400 a year respectively.
Posted by Alan Joyce at 12:20 AM | Comments (0) | TrackBack
June 28, 2005
EverythingDigital Podcast 2005-06-28
News and opinions about the new iTunes version 4.9 and iPodderX for Windows, as well as Google Video's new features, Cingular's consideration of the Motorola iTunes phone, search engines playing Trivial Pursuit, and my newly-built $14 video camera stabilizer.
SHOW NOTES: HTML | OPML | TEXT
DOWNLOAD THE MP3 | 35:21 | 16.2 MB |
Posted by Alan Joyce at 11:13 PM | Comments (2) | TrackBack
iTunes 4.9 is Here!
I just ran software update and, true to the rumors that were floating around yesterday, iTunes version 4.9 has been released! I have not yet had a chance to try out the new podcatching features, but you can expect a full review in what will be today's or tomorrow's EDP.
Posted by Alan Joyce at 12:21 PM | Comments (0) | TrackBack
June 27, 2005
Video Camera Stabilizer

I just finished building my $14 video stabilizer as seen in Make: Magazine, and I must say I am amazed with it. It has produced a nice, smooth pan in every test I have performed so far, and it seems sturdy enough that I can let it support my digital video camera without becoming too nervous. The whole thing took around 35-40 minutes to put together (not including time to get the parts), and I had it working beautifully moments after it was assembled. I used a 2 1/2 pound weight and galvanized steel piping as recommended in the article.
Pics can be found here, and I've posted one of my test videos here.
Posted by Alan Joyce at 06:26 PM | Comments (0) | TrackBack
June 25, 2005
.com
Posted by Alan Joyce at 09:41 PM | Comments (0) | TrackBack
June 23, 2005
iPodderX for Windows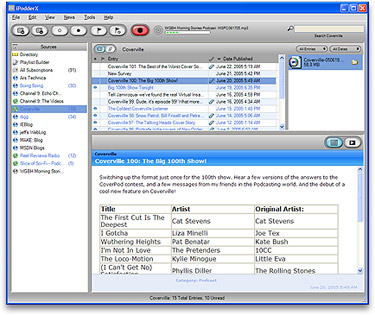 I can hardly believe it, but August and Ray from Thunderstone Media have just announced a Windows version of their popular Mac podcatching client, iPodderX. The Windows version will still have all the features us Mac users enjoy, and will be available as a public Beta in the coming weeks.
They also took the opportunity to introduce Sean Jackson, a new addition to Thunderstone Media, who has been hard at work porting iPodderX to Windows in recent weeks.
"iPodderX has long been thought of as the best podcasting client for the Mac," said iPodderX developer August Trometer. "We couldn't be more excited to bring iPodderX to the Windows platform."
Posted by Alan Joyce at 05:47 PM | Comments (4) | TrackBack
European iTunes Music Stores Reach 50 Million Downloads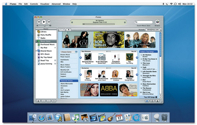 Apple announced earlier today that users of its iTunes Music Stores in European countries have purchased a total of more than 50 million songs. The milestone was reached through the combination of 17 music stores in countries throughout Europe, including the UK, France, and Germany where the first European iTunes Music Stores were launched in June of 2004. In addition to the 17 European music stores, Apple has also established stores in the US and Canada, which have helped the company to reach a total of more than 430 million song purchases worldwide.
Posted by Alan Joyce at 12:33 PM | Comments (0) | TrackBack
June 22, 2005
Contois Music Technology's Suit Against iTunes

Up next on the bizarre "let's sue Apple just because" series of patent lawsuits: Contois Music Technology, who has recently filed a suit against Apple Computer claiming that the company's "copying and willful infringement" of their patent for a "Computer Control System and User Interface for Media Playing Devices" has caused Contois substantial damages. Apparently nobody is allowed to create a piece of software that can sort music files by album or genre, and it is completely illegal to implement the ability to transfer songs to a portable device without licensing rights from Contois. Go figure.
Posted by Alan Joyce at 11:22 AM | Comments (0) | TrackBack
Cosmos 1 is Alright

Cosmos 1, the first fully implemented solar-sail spacecraft, has been in and out of communication with ground controllers all day. It was believed to be lost during a long period of radio silence, but it was later interpreted that the silence was actually a series of signals from the craft reporting its progress. It seems to have survived the launch at any rate, but may be in a lower orbit than expected. Planetary Society co-founder Bruce Murray said earlier, "The good news is we have reason to believe it's alive and in orbit. The bad news is we don't know where it is." UPDATE: Maybe not so much.
Posted by Alan Joyce at 12:03 AM | Comments (0) | TrackBack
June 18, 2005
EverythingDigital Podcast 2005-06-18
Michael Dell's interest in OS X, the new BT Fusion handset, IE's added support for tabbed browsing, Safari on smartphones, a review of BlogApp and ecto, and a revised sponsorship model among other current items of interest.
UPDATE: Doesn't look like my attempts to include the mp3 in the site feed were successful. For now, just stay tuned on the podcast feed for new shows.
SHOW NOTES: HTML | OPML | TEXT
DOWNLOAD THE MP3 | 28:16 | 13.0 MB |
Posted by Alan Joyce at 11:18 AM | Comments (0) | TrackBack
June 16, 2005
British Telecom is Connecting Cell and Land Line
With a new handset dubbed BT Fusion, telecommunications provider British Telecom claims to be bringing customers the "best of both worlds" with support for both cellular network connectivity outside and broadband land line connections at home or in the office. The handset will be able to switch automatically over to the broadband line if it detects it, and back to the cellular connection when the land line is out of range. Customers planning to take advantage of BT Fusion will need a BT land line as well as a cellular subscription. The land line portion also requires the BT Hub wireless access point, which allows the handset to make the switch through Bluetooth technology.
Posted by Alan Joyce at 09:18 PM | Comments (0) | TrackBack
June 15, 2005
Trying to Get a Show Together
Well, turns out finding music took a lot longer than I thought, mostly due to several highly ranked bands stopping downloads on their mp3s, presumably due to bandwidth issues and the increased popularity of garageband. Needless to say, it'll probably be a Thursday or Friday show, but it's gonna be a good one. Oh, and by the way, at long last I was able to find some excellent music, it just took a little a lot of digging around.
Posted by Alan Joyce at 09:42 PM | Comments (0) | TrackBack
HP 64's the Pavilion and Presario
HP today announced an update for the HP Pavilion and Compaq Presario lines that now includes the option of an AMD Turion 64 processor for 64 as well as 32-bit application support. The update will affect the Pavilion dv1000, ze2000, zv6000, dv4000, zd8000, as well as the Presario M2000, R4000, V4000, and V2000 series PCs. It's no surprise for the PC industry to see more 64-bit processors entering laptops, but maybe it will put just a little bit more pressure on Apple to get that Powerbook G5 (or Mactel Powerbook M) out there.
Posted by Alan Joyce at 06:09 PM | Comments (0) | TrackBack
June 14, 2005
Skype Voicemail Comes Out of Beta
The Skype Voicemail service, which has been available as a beta since April, made its debut yesterday as an official, pre-paid, premium offering of the Skype Internet Telephony Company. It was released along with Skype for Windows 1.3, which is designed to integrate more fully with other desktop applications. As you may know, Skype Voicemail is essentially an answering machine for your computer, where contacts can leave messages of up to 10 minutes that are stored on a remote Skype server until you log in and receive them. The service will continue to be priced at $7 for 3 months, or $19 for a year.
Posted by Alan Joyce at 05:20 PM | Comments (0) | TrackBack
'Next Page' and 'Previous Page' Buttons
After a bit of technical work that I won't really get into, I was able to add next and previous page buttons to the site. If you look at the bottom of the main page, you will see a link to another full page of older entries, and on the bottom of that page you will find a link back to the main page. I know it's minor, but I hope it will improve the overall everythingdigital.org website experience.
Posted by Alan Joyce at 11:44 AM | Comments (0) | TrackBack
June 13, 2005
Quad-Core Processors by 2007
AMD has announced plans for quad-core processors to be implemented in personal computers by 2007. The company also has plans for chips with up to 16 cores in the future. AMD says its new processors will make the most out of 64-bit technology, and eventually even be able to smoothly run multiple operating systems simultaneously.
Posted by Alan Joyce at 08:53 PM | Comments (0) | TrackBack
Ciscage: Vonage and Cisco Giveaway
In an attempt to increase subscriber numbers, Vonage has signed a deal with Cisco, announcing that it will now give away a Linksys Wi-Fi base station to customers that sign up for Vonage from now until July 23. In addition, Cisco is selling its WRTP54G base stations with a voucher for a rebate on Vonage calling plans. With this new strategy in place, both companies hope to increase interest and demand for their products through the harmonious combination of wireless internet and VoIP calling.
Posted by Alan Joyce at 06:08 PM | Comments (0) | TrackBack
Sony Ericsson's New Lineup
In other mobile phone news, Sony Ericsson has recently debuted four new additions to their line, including (from left to right) the W600 Walkman Phone, the S600 swivel phone, the Z520 clamshell, and the simplistic J210. Click each phone for a press release.
Posted by Alan Joyce at 08:27 AM | Comments (0) | TrackBack
Safari on Smartphones
Mobile phone manufacturer Nokia has announced that the next generation of web browsers for its smartphones will be based on Apple Computer's Safari browser for Mac OS X. The phones, which previously ran a mobile version of the Opera browser, use the Symbian Series 60 smartphone user-interface. Nokia has said nothing yet concerning its Series 80 models, but it is expected that they will continue to use the Opera browser that Nokia licensed for them in March. The most interesting part of this new development is the fact that, with the addition of a mobile Safari, Nokia hopes to enter and "actively participate" in the open source community. The new browser will be available in early 2006.
Posted by Alan Joyce at 08:08 AM | Comments (0) | TrackBack
June 12, 2005
Are You Ready For Deep Impact?

It's time to head for Hawaii and grab a front row seat because...
During the early morning hours of July 3 (EDT), the Deep Impact spacecraft will deploy a 1-meter-wide (39-inch-wide) impactor into the path of the comet, which is about half the size of Manhattan Island, N.Y. Over the next 22 hours, Deep Impact navigators and mission members located more than 133 million kilometers (83 million miles) away at JPL, will steer both spacecraft and impactor toward the comet.
Posted by Alan Joyce at 09:59 PM | Comments (0) | TrackBack
One Dollar Windows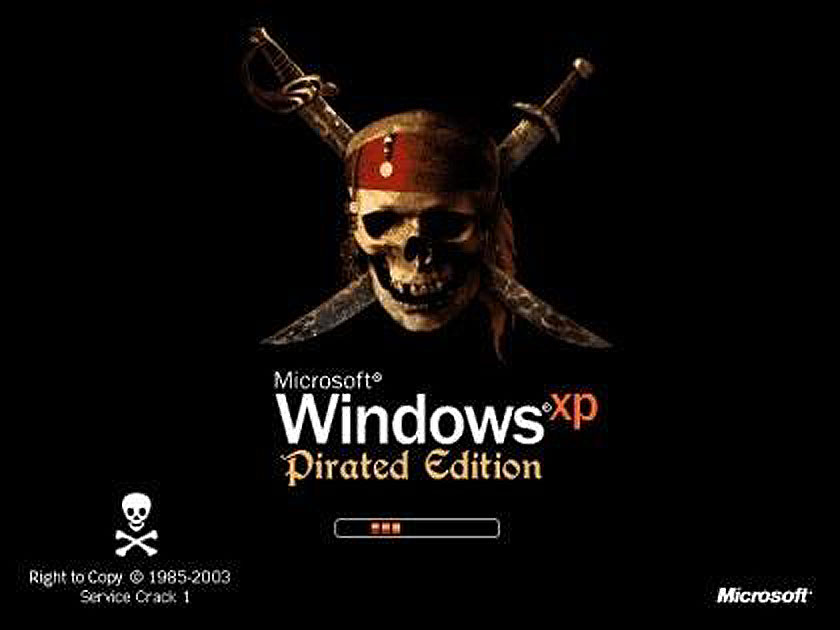 Looks like Microsoft has finally reached a deal with the Indonesian government, which reportedly uses thousands of pirated copies of Windows on its computers. The new amnesty agreement allows the government to legalize its pirated copies, and avoid a lawsuit from Microsoft, for just one U.S. dollar a piece along with the promise that they will buy legal copies in the future. Yes folks, it seems Windows IS getting more worthless by the day.
Posted by Alan Joyce at 07:57 PM | Comments (1) | TrackBack
June 09, 2005
HD DVD-R
Peace talks aside, it looks like Toshiba is forming an offensive in FORMAT WARS EPISODE II with the promise of a 15GB recordable HD DVD by next spring. The discs will be released along with the first HD DVD recorders, as well as computers with built-in HD DVD-R drives. Toshiba has also said it will introduce an HD DVD-RW disc in the spring as well. This announcement comes as a response to Sony's recent introduction of re-writable Blu-ray discs, which they have already begun selling.
Posted by Alan Joyce at 09:24 AM | Comments (0) | TrackBack
160 GB Notebook Hard Drives
Drive manufacturer Seagate has recently announced a new line of high-capacity hard drives, including one 2.5-inch 160 GB model. The drives are intended for use in laptops and small form-factor PCs, and implement perpendicular recording technology, which allows for large increases in data storage by aligning the bits upright instead of flat on the disk. The new hard drives are expected to be available in the first quarter of next year.
Posted by Alan Joyce at 08:57 AM | Comments (0) | TrackBack
IE Playing Catch-Up
In a move to try and regain some of the market share it has lost to Firefox and other alternative browsers, Microsoft Internet Explorer has introduced tabbed browsing via an updated version of the MSN Search Toolbar released Wednesday for IE 6. In past weeks, Microsoft has made promises of tabbed browsing appearing in IE 7, but has not gone any further than suggest that the feature could be achieved through toolbars as well. It should be interesting to see whether this re-gains any market share for Microsoft, but we can probably assume that overall browser security is more important than tabbed browsing to most people.
Posted by Alan Joyce at 08:06 AM | Comments (0) | TrackBack
June 08, 2005
Taking ecto for a Spin
Well, I haven't bought it yet, but I decided to give ecto a try after my not-so-encouraging test of BlogApp, and it is wonderful! I cannot believe how easy it makes updating the site, and I will definitely continue to use it my full 20 days, and probably beyond.
Posted by Alan Joyce at 07:24 PM | Comments (2) | TrackBack
This is a test post
This is a test post from my newly-found blog editor, BlogApp. After some hunting around to find something that worked well for my purposes, I stumbled upon BlogApp. It's a free application, so I don't expect too much from it, but if it doesn't work out, I may have to consider buying ecto or MarsEdit. Hopefully this post will work!
Update: Looks like everything went great, I'll probably be using BlogApp from now on to do my posts.
Update 2: Not sure what happened, but when I edited in the update, it posted my original text twice. Hopefully it will work this time.
Update 3: Looks like this issue is persistent. I may have to go ahead and purchase ecto, or do all my re-editing of posts in Movable Type's web interface.
Posted by Alan Joyce at 04:42 PM | Comments (0) | TrackBack
June 07, 2005
Sticking Behind the Tablet PC
Microsoft seems intent on rescuing the Tablet PC from it's not-so-popular reputation, and is backing up this intent with the new IBM/Lenovo X41T Tablet Series. Steve (Ballmer not Jobs) was trying to build excitement for this new line at the TechED conference earlier this week during his keynote. The new Thinkpad re-thought will come with Windows XP Tablet Edition 2005, a 12-inch rotatable screen, up to 8.5 hours of battery life, and 802.11 a, b, and g wireless support.
Posted by Alan Joyce at 09:35 AM | Comments (0) | TrackBack
WWDC 2005: Steve Jobs Keynote
Well, it's finally been announced, Apple is really switching over to Intel processors, and podcasting is really going to be a big part of iTunes 4.9. I haven't had time to watch the keynote myself yet, but Engadget's got a full report on the minutia of the speech if you want to see what was said without watching the whole thing yourself.
Posted by Alan Joyce at 09:26 AM | Comments (1) | TrackBack
Microsoft's VoIP Plans
Speaking of last-minute entries, Microsoft has just signed a deal with AT&T with plans to enter the already-saturated internet telephony market. Looks like the features of this new VoIP service should be pretty standard, with no big surprises. The service should integrate directly with Microsoft software and be available soon, although no exact time has been released.
Posted by Alan Joyce at 09:14 AM | Comments (0) | TrackBack
AOL To Offer Up Free Email to AIM Users
AOL has introduced an odd last-minute entry into the 1GB+ email competition. Whether AOL intends to attempt to compete head-to-head with Gmail and Yahoo! has yet to be determined, but as of yesterday users of AIM 5.9 will have access to 2GB webmail inboxes, dubbed AIM Mail. It should be interesting to see how AOL stacks up in the free webmail industry, now that they are reaching out beyond their subscription base, but one thing's for sure, since this is AOL you can expect plenty of ads to go along with those 2GB.
Posted by Alan Joyce at 09:04 AM | Comments (0) | TrackBack
June 05, 2005
EverythingDigital Podcast 2005-06-05
A news-filled show, with information on Apple's switch to Intel processors, a new bluetooth security flaw, HP's iPod mini, a quick n' cheap "waterproof iPod" solution, Dell's new high-end PC line, video support in iPodLinux, and a sponsorship offer for anybody who is interested.
SHOW NOTES: HTML | OPML | TEXT
DOWNLOAD THE MP3 | 25:06 | 11.6 MB |
Posted by Alan Joyce at 09:13 PM | Comments (1) | TrackBack
June 03, 2005
Apple to Switch to Intel Processors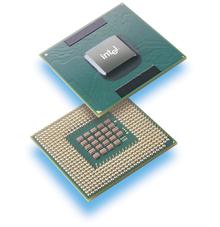 In a stunning move, Apple Computer has apparently reached an agreement with Intel for the manufacturing of processors for Apple products. According to CNET, Apple will no longer use the IBM PowerPC chips, and will instead look to Intel to produce more efficient, cooler chips. These new chips will be implemented first in Apple's lower-end models, but will eventually be used in the company's high-end computers as well. Based on this information, there is a possibility that the highly anticipated Powerbook G5 could be closer to reality thanks to Intel technology, but maybe that's just wishful thinking. Nevertheless, it will be interesting to see how Apple developers cope with the transition, since most applications will have to be re-worked to take advantage of the new processors.
Posted by Alan Joyce at 09:17 PM | Comments (2) | TrackBack
June 02, 2005
Well, Whaddaya Know?
Surprise! I've fallen behind again this week, so I thought I would send out a little update just to let everybody know I'm still here. I'm planning to outline the show tomorrow, and then record it Sunday. Of course, this time scale is subject to change, so don't plan your weekend around it. ;)
Posted by Alan Joyce at 09:35 PM | Comments (0) | TrackBack